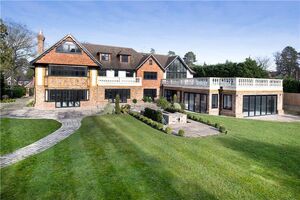 The
Sidemen House
is a luxury mansion in which four of the
Sidemen
live. It is dubbed "The Sidemen House", taking the name of the
former house
. They moved here in mid-2016, after having lived in the former house for around 2 years.
The exact location will not be revealed for privacy reasons, however the house is no longer in an open, suburban area like the old one was. It is situated on a private estate (along with other multi-million pound mansions) with 24 hour security - a factor they undoubtedly considered when choosing a new house.
None of the Sidemen have ever filmed a tour of the new house and they haven't even formally acknowledged the fact that they have moved - even to this day. It appears to be a running in-joke that the Sidemen have (pretending they have not moved house), as shown in a recent Grand Theft Auto V session.
There was a short period of time in early-2016 when they were in the process of moving, so their videos simultaniously showed old and new room locations - regularly switching between the new and old house. Many people grew suspicious when a new, blaringly obvious and much larger house was seen in the background of the groups videos.
The house was built just a year before the Sidemen moved in. It has a pool complex and sauna, 6 en-suite bedrooms as well as a cinema, gym and beauty salon (which Josh instead uses as the recording area for his Homegrown Podcast series). KSI's bedroom also has it's own lift/bum
More of the interior of the Sidemen House can be seen in the following videos.