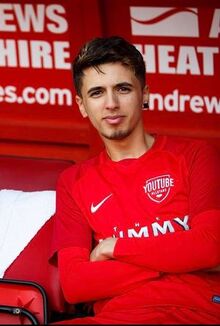 Josh Larkin, known online as TheBurntChip, is a British YouTuber who has over 1 million subscribers, who has also had multiple appearances alongside the Sidemen in recent months - in particular with wroetoshaw and miniminter.
Biography
Edit
Josh started YouTube on 21 October 2012.
He is 23 years old and his birthday is 13 July 1994.
He was originally participating in the 2016 charity football match, playing on the 'YouTube Allstars' team. On 1 June 2016, 'TheBurntChip' was replaced by JMX, due to his grandad's death.
Ad blocker interference detected!
Wikia is a free-to-use site that makes money from advertising. We have a modified experience for viewers using ad blockers

Wikia is not accessible if you've made further modifications. Remove the custom ad blocker rule(s) and the page will load as expected.