Grand Theft Auto V is an open world video game released in 2013, and one of the most popular games that the Sidemen play.
Previously, they played the Xbox 360 version, but have since moved to the 2014-released Xbox One version, with some of them having installed and played the 2015-released Windows PC version.
As of May 2015, most of the Sidemen have shifted to the PlayStation 4 version, which is the same as the Xbox One version. They are playing with completely new Grand Theft Auto Online avatars in the PS4 version as they have already used their character transfers from Xbox 360 to Xbox One and later from Xbox One to Windows.
For a while after the others switched to PS4, whenever KSI decided to play with the Sidemen, they reverted back to the Xbox One version (presumably because JJ didn't own the game on PS4 so it would be easier, both practically and logistically). He has since started playing the PS4 version with the others. Harry did not join them on the PS4 until October 2015.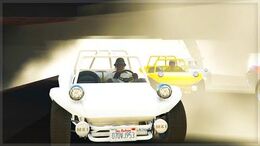 The Sidemen do user-created events (mostly races with some deathmatches, captures, and Last Team Standing events) within the game's
Grand Theft Auto Online
mode.
Josh
is the regular host of their
GTA Online
sessions and playlists while
Simon
normally announces the playlist names, event names (often with deliberate malapropisms), and event descriptions. Usually, when the description is in a foreign language, Simon will ask Ethan or Tobi to attempt to read it.
Colouring
Edit
For the viewers to distinguish which Sideman is which when they play races with cars, they all decided to pick a colour to stick with forever. Hover over their online identities (Xbox Live Gamertag, PSN name, and RGSC name) for colour names and any other information.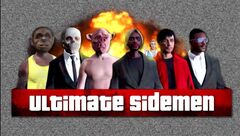 Up until around early 2015 (before which was when six or seven Sidemen regularly played GTA together), the group would separate themselves into teams. These teams would work together but ultimately betray one another. The concept of teams has fallen through after KSI and Harry stopped playing frequently, but the idea is still referenced from time to time. The teams are/were:
Ad blocker interference detected!
Wikia is a free-to-use site that makes money from advertising. We have a modified experience for viewers using ad blockers

Wikia is not accessible if you've made further modifications. Remove the custom ad blocker rule(s) and the page will load as expected.