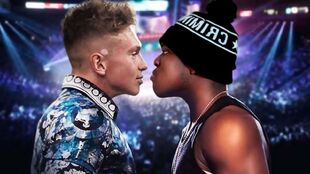 KSI
and
Joe Weller
 will be going head-to-head in a
boxing match
scheduled for 3 February 2018.
Upload Event
Edit
On 9 September 2017, KSI and Joe Weller attended the Upload event which was also live streamed to YouTube (on the Upload Event Channel). The drama began when both KSI and Joe Weller "crashed" each others panels. When Joe came into JJ's panel he was allowed on stage by security and the two had a brief pushing contest before being pulled apart.
The last show on the Sunday was a boxing press conference between KSI and Joe where they traded insults at each other in front of the public (fans). At the end of the conference during a face off, Joe barged into KSI and a fight erupted when JJ threw security and one of Joe's friends to the floor trying to get to Joe. Security quickly pulled Joe off the stage.
KSI's Response
Edit
On 11 September 2017, KSI made a video titled Responding to the Joe Weller Fight. In the video KSI says that he will "kill" Joe in the boxing match and that he doesn't know what is coming. KSI also apologised for the inappropriate/insensitive comments he made about mental health during the feud.
Weller's Response
Edit
On 18 September 2017, Joe made his own video where he responds to the drama.
Ad blocker interference detected!
Wikia is a free-to-use site that makes money from advertising. We have a modified experience for viewers using ad blockers

Wikia is not accessible if you've made further modifications. Remove the custom ad blocker rule(s) and the page will load as expected.