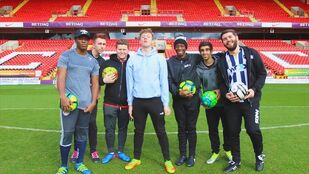 The 2017 charity football match was an event hosted by the Sidemen, following the success of the event in 2016. It took place on 21 May 2017.
The match was announced on 12 March 2017. It was confirmed to take place at The Valley - the official stadium of Charlton Athletic. This is smaller in capacity compared to St. Mary's Stadium in 2016 however, unlike the original match, the Sidemen attempted to fill the entire stadium (as opposed to just one section of the stands).
The chosen charities for the 2017 match were the Charlton Athletic Community Trust and Childline.
It is the second of the Sidemen's annual charity matches.
The Teams
Edit
Sidemen F.C.
Edit
A near identical team to the 2016 match - it was once again captained by miniminter. This was the second "official" appearence of the team, and has become the default football club for the Sidemen. 
YouTube Allstars
Edit
Once again captained by Calfreezy, this is the same "club" as the 2016 match but with a few major changes (see below).
| SDMN - 0 | 2 - YTAS |
| --- | --- |
| | Castro 3' |
| | ChrisMD 90' |
| Player | Number |
| --- | --- |
| Charlie Morley | 1 |
| CSG | 1 |
| WillNE | 2 |
| Zerkaa | 4 |
| Josh Pieters | 4 |
| JME | 4 |
| REEV | 5 |
| miniminter | 7 |
| Callux | 7 |
| P Money | 8 |
| Oli White | 9 |
| ChrisMD | 10 |
| KSI | 12 |
| Behzinga | 16 |
| Calfreezy | 17 |
| Manny | 17 |
| TheBurntChip | 19 |
| TBJZL | 21 |
| Castro | 21 |
| JMX | 25 |
| hughwizzy | 30 |
| Marcus | 50 |
| Caspar | 69 |
| Poet | 75 |
| W2S | 77 |
| Vikkstar123 | 123 |