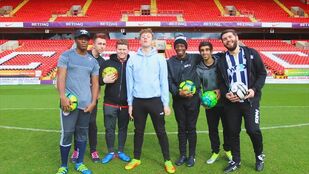 The 2017 charity football match was an event hosted by the Sidemen, following the success of the event in 2016. It took place on 21 May 2017.
The match was announced on 12 March 2017. It was confirmed to take place at The Valley - the official stadium of Charlton Athletic. This is smaller in capacity compared to St. Mary's Stadium in 2016 however, unlike the original match, the Sidemen attempted to fill the entire stadium (as opposed to just one section of the stands).
The chosen charities for the 2017 match are the Charlton Athletic Community Trust and Childline.
The Teams
Edit
Sidemen F.C.
Edit
A near identical team to the 2016 match - it was once again captained by miniminter. This is the second "official" appearence of the team, and has become the default football club for the Sidemen. 
YouTube Allstars
Edit
Once again captained by Calfreezy, this is the same "club" as the 2016 match but with a few major changes (see below). After a 7-2 loss in 2016, the team will attempt to pull it back.
Ad blocker interference detected!
Wikia is a free-to-use site that makes money from advertising. We have a modified experience for viewers using ad blockers

Wikia is not accessible if you've made further modifications. Remove the custom ad blocker rule(s) and the page will load as expected.