The 2016 charity football match was a notable sporting event hosted and streamed by the Sidemen.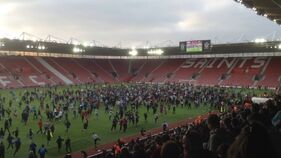 On 6 March 2016, the 
Sidemen
 announced that they would be participating in - and hosting - a charity football match at St. Mary's Stadium in Southampton (home of Southampton F.C.) on 3 June 2016.
All money generated from ticket sales went towards the 'Saints Foundation' charity. All seven members of the Sidemen played on one team  (along with a few others) called Sidemen F.C. and they played against a team of "YouTube Allstars". The teams were steadily announced on Twitter between March and May.
Ticket sales alone generated over £100,000 for the charity and the 'JustGiving' page added an additional £10,000+ to that figure. Donations can still be made via the link here: https://www.justgiving.com/fundraising/SidemenFC.
The Teams
Edit
Sidemen F.C.
Edit
Sidemen Football Club is an unofficial real-life association football "club"/group created by theSidemen. The team has only made two "official" appearances . It first appeared at St. Mary's Stadium, Southampton in 2016 for the first charity football match against the YouTube Allstars (another unofficial "club"). It subsequently appeared the following year for the 2017 charity football match.
A similar - but not identical - team called Sidemen United was created for 'The Wembley Cup' match against Spencer FC in 2015. This team lost to Spencer FC 5-2, whilst Sidemen F.C. beat the YouTube Allstars 7-2.
YouTube Allstars
Edit
YouTube Allstars is a football team created purposely for the 2016 charity football match hosted by the Sidemen in Southampton. The team is comprised of, as the name suggests, all-star YouTubers.
For their first "official" match, YouTube Allstars lost 7-2 to Sidemen F.C.. The captain for this team is Calfreezy (Callum Airey).
The teams played each other again - with a few players introduced and/or switched - the 2017 match.
(C) = Captain (miniminter and Calfreezy).
(i) Until 1 June 2016, TheBurntChip was playing for the YouTube Allstars. He pulled out due to family issues. He was replaced by 'JMX'.
(ii) Until 27 May 2016, Caspar Lee was playing for Sidemen F.C. He pulled out due to scheduling conflicts and was replaced by 'hughwizzy'.
The final results of the match was 7-2 to Sidemen F.C.
TBJZL has since said that his favourite moments from the match were when he scored the first "actual" goal of the match (which wasn't an own goal), as well as the fact that his brother Manny scored two. However, the moment that had the edge for him was when Vikkstar123 attempted to "back-heel" the ball.
Ad blocker interference detected!
Wikia is a free-to-use site that makes money from advertising. We have a modified experience for viewers using ad blockers

Wikia is not accessible if you've made further modifications. Remove the custom ad blocker rule(s) and the page will load as expected.